Algopix has had the privilege of working with some of today's leading marketplaces including Facebook Marketplace, Google Shopping, Mercari, Walmart, and others. Through our partnerships we have learned what works and what doesn't, and our goal is to support our partners in tackling their most pressing challenges. So to that end we all know that eCommerce isn't static. It is why many marketplaces can't answer seemingly simple questions like:
Is my catalog data accurate?
Am I presenting the most relevant items at the right prices? 
Do I have the right mix of products to please shoppers? 
And lastly, how can I target the right sellers for my marketplace so I can keep shoppers coming back time and time again?
On December 8, 2021, during a live webinar, we dove into the most popular ways our team works with these marketplaces, starting with the importance of catalog integrity as the foundation of any marketplace business. Read the transcript below and watch the accompanying video.
Trust Your Catalog Data
First, catalog integrity is being able to trust your backend or canonical catalog data to support two fundamental processes for your business. The first is to improve seller onboarding by automating the listing process. This will release the reliance of your sellers to input accurate and robust information creating a frictionless onboarding process: What I like to call, the gold standard.
Then the second pillar I'll touch on is the importance of having the backend data to consolidate duplicate listings of the same product for a better shopper experience. 
So let's start from the beginning with the first pillar around disparate data and insufficient product content input by thousands of sellers, which leads to incomplete, miscategorized and duplicate product data entries. Let me ask you, what is more attractive to a power seller?
A time consuming and manual process that can fall to easy inputs or 
An easy automated and seamless product onboarding experience with recommended inputs that takes the responsibility out of the seller's hands?
Well, I'll answer it for you. It's the latter. Our team has heard from one of the top marketplaces in the world that on average over 25% of sellers' submissions are declined due to insufficient inputs because they require too much from sellers. This will create inconsistencies from the start.
Help Your Merchants Want to Work with You
The first step of the onboarding process input should be automated; where a seller starts typing in the name of a product in which your marketplace immediately starts suggesting products. This enables the merchant to auto-populate the product information.
Now, why is this important? As a marketplace it is your responsibility to make this process as easy as possible, to make your merchants want to work with you. This right here is a huge value making sellers want to list on your marketplace. Most marketplaces that we speak to are requiring a ton of attributes aspart of their product submissions and many sellers don't have this information. This leads them to abandon the process resulting in poor product listings.
So, let's make it easy for them. How will this impact your marketplace shoppers? We look at your business having two very important clients: your shoppers and your sellers. So we just talked about the sellers' portion. Now we're going to dive into how this is going to impact your shoppers. The answer is trust, and trust is one of the most important components for drawing shoppers to your marketplace.
Be the Gold Standard, Pivot to Winning the Basket
Marketplaces that aren't thinking about enhancing backend data with the most accurate and robust product details will lag behind. And it starts with the aforementioned first pillar – having really strong recommendations for your sellers. This, in turn, will impact your shopper's experience. If you see your product listing with disparate details on the product, the click-out rate of the external research will limit the chances of your marketplace winning the sale versus your competitors.
The 'gold standard' is being the product expert for your shoppers. An example of another large challenge is duplicate listings of the same products. Here, you will see three of the same products with different photos, titles, prices scattered throughout the DSLR camera category page on Facebook marketplace. This could be totally confusing and on off putting to some shoppers: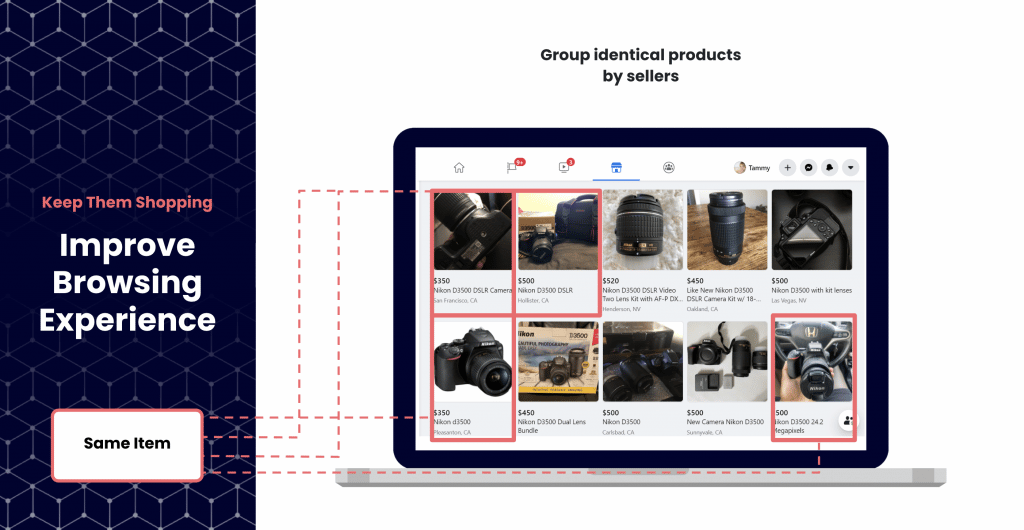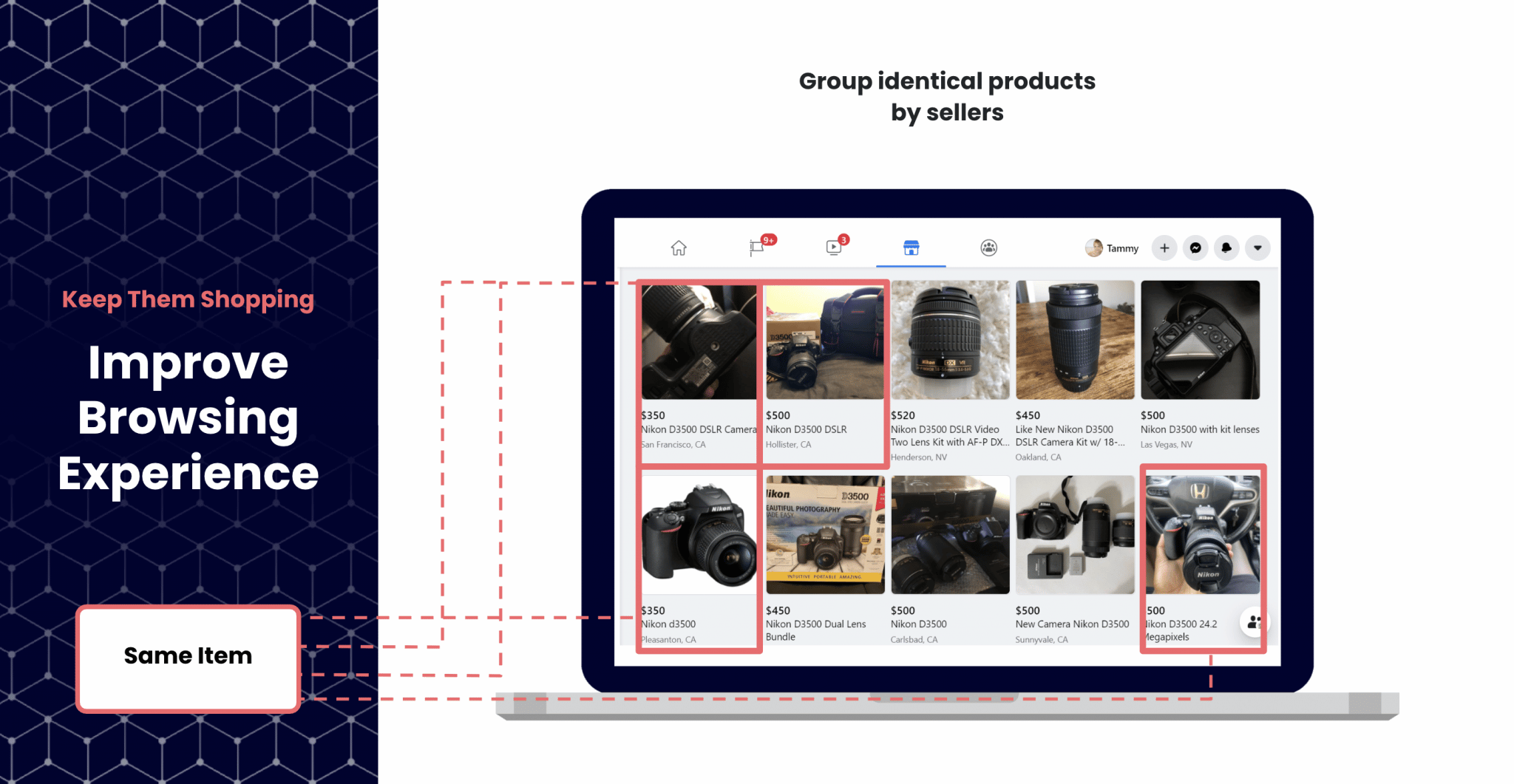 As illustrated above, it's hard to see what is actually accurate, what's fraudulent, if it's the same product that is actually being searched, etc. So, if you have a robust catalog like Facebook marketplace does here, consolidating duplicate items into one listing can improve the shoppers experience. 
However, below shows the after view that we have been able to help our marketplace clients achieve: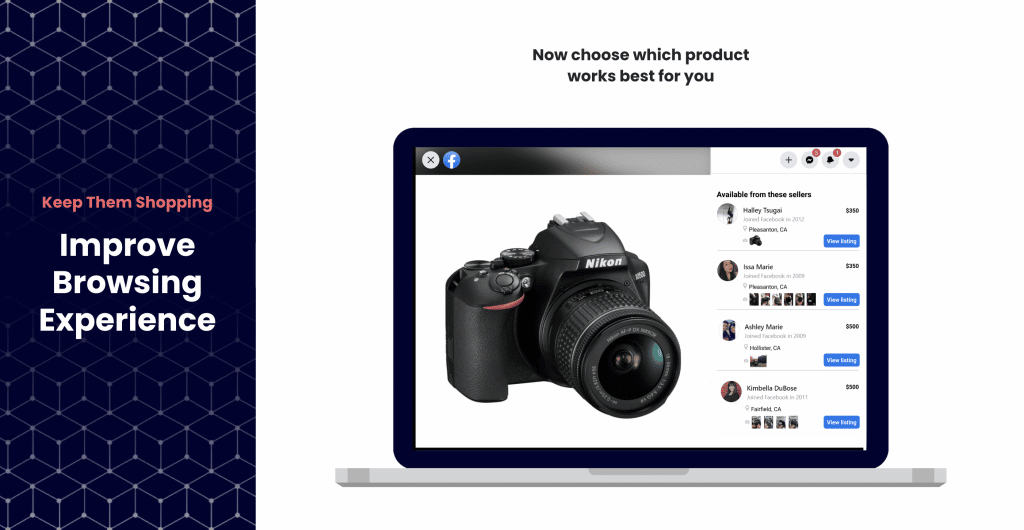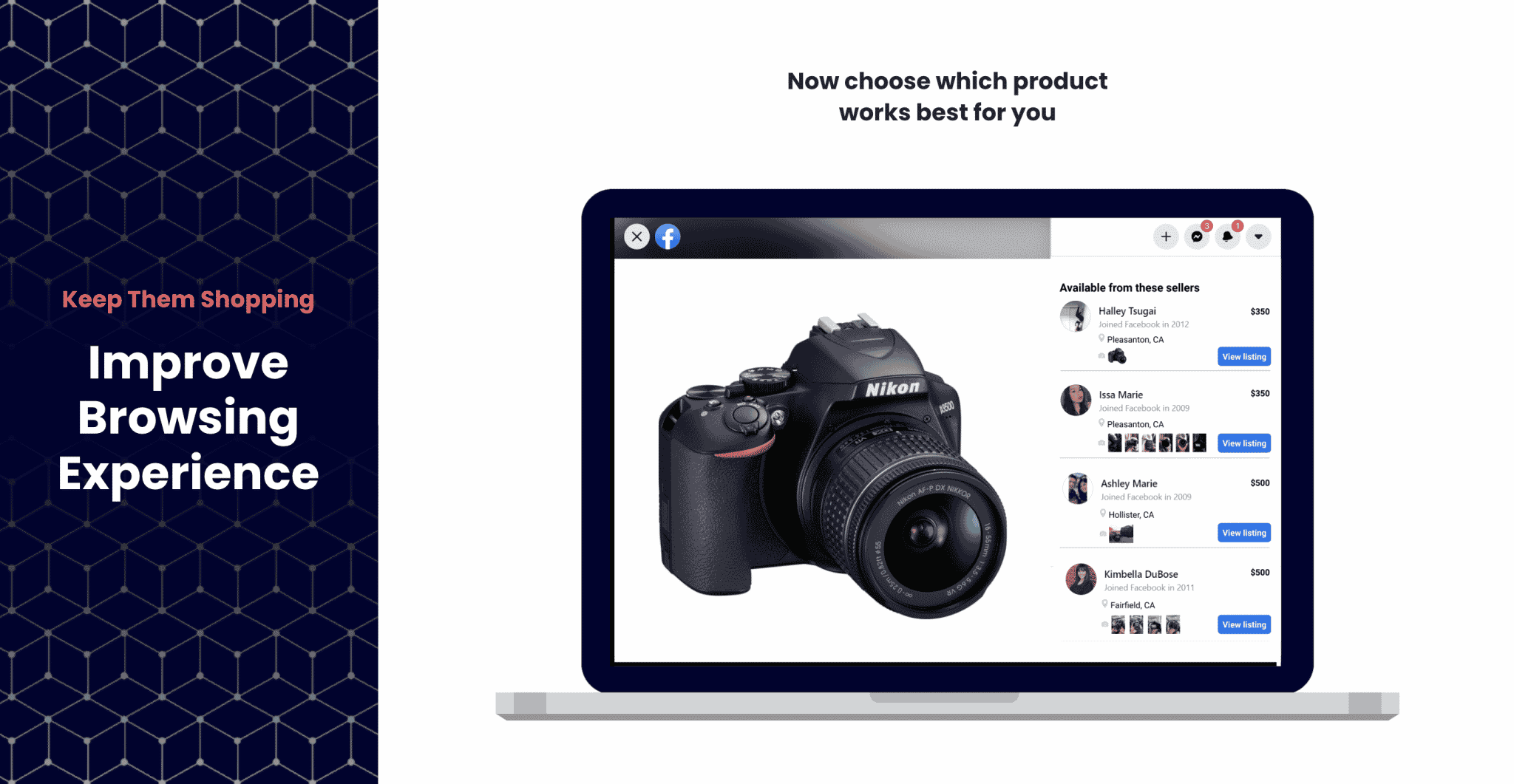 Here you will see an example of a product listing with all the sellers that are selling this particular item. All the shopper needs to do is choose which offer makes the most sense to them based on price and other things like shipping, or what type of conditions it is in. So, as shown here, you've just limited a three-plus click process down to one or two by consolidating those listings into one. 
In closing, understanding the importance of the two main building blocks of your marketplace's catalog will impact your seller and shopper experience. Next, be sure to dive into the importance of promoting the most relevant products with the most informed, competitive pricing – and learn the characteristics of A+ sellers that are right for your marketplace.